B is for BOOKS…
My Favorite #KrispTip for Books:
When guests come to visit they will love your special hospitality touch that you share with them your favorite reading recommendations! I put out some of my favorite books on the guest room night table… and in them is a homemade bookmark with a note to my guests. "This was my favorite read this year", "Best Nonfiction ever!" "Good beach read – a mix of romantic and comedy" or even "Best book from my childhood"! Leave a variety of book selections out for them…and you are sure to please everyone! (I have Happiness is a Warm Blanket out in my guest room😊) It is such a personal touch and I promise it will touch them!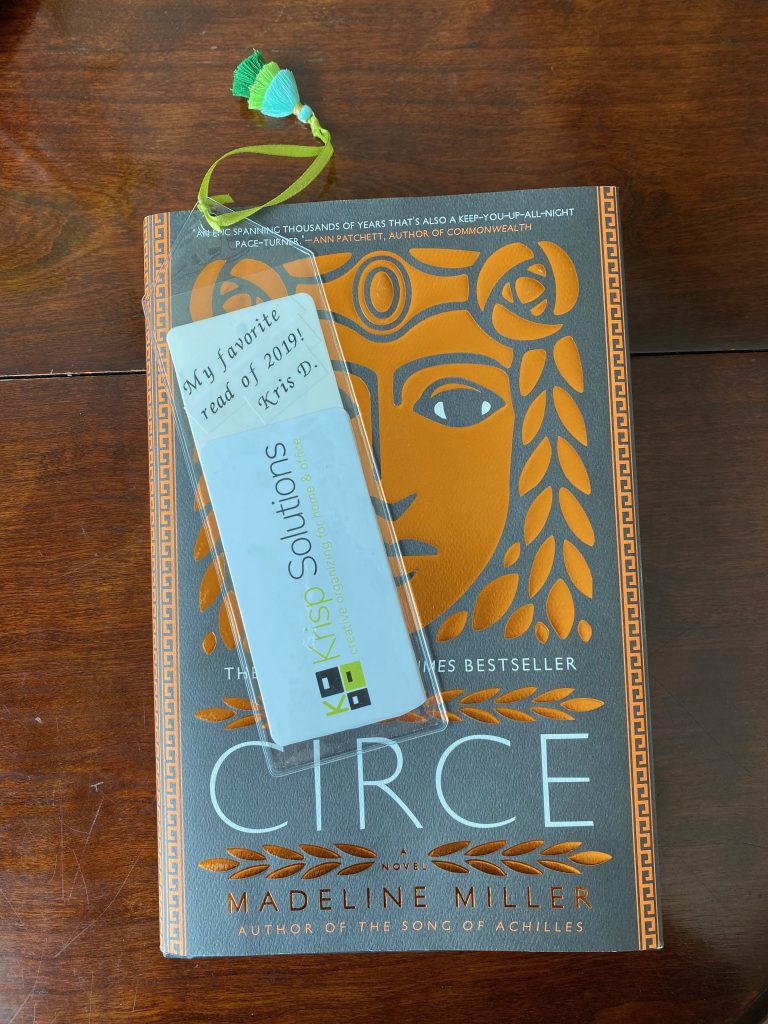 Books DIY Process:
I must admit that I have gone to reading most of my fun books (mysteries, urban fantasy) on my Kindle. That said I think it makes me prize my hardcover books even more. Maybe it is "old school" but I still love to peruse book covers on a stroll through Barnes and Noble. I am pretty sure that I am not the only out there that loves to hold a real book. I like to read on the jacket the author's bio and a summary of the possibilities inside. I still keep many of my favorite books going back to childhood (my earliest favorite is still The Secret Garden!) through school (Shakespeare, Dickens) and then on to the business gurus in graduate school (Carnegie, Covey, Peters). Now I have tons of professional books (How-to-books mostly with some inspirational ones).
And on top of coveting all those books, I have recently decided to tackle one of my bucket-list items – to read the Great Books! Yowzer! I am finding it very hard to keep up with some brilliant scholars that are in the Great Books conversation group. There is a continuous email debate going on amongst them about philosophy versus economy. (I may be in over my head! But I will DO this!)
To organize your books, it's my same organization process:
Step #1: The Sort This may need some space so if there is a bed or sofa in the room with the books, it works to make piles on it. This sort sounds simple, but it really takes time. First sort by like to like. You may have some of these categories: How-to, Religion, Cooking, Classics, Language, Travel, Women's Studies, Art, Children's, Business, etc. Fiction may be broken down by author. Non-fiction may be broken down into biography, history, current event, American, English, etc. If you can just arrange the shelves, that makes it much easier…but be prepared that you may have to empty the shelves to get your piles.
Step #2: Decision Time Most likely you have more books than space. So once you have sorted, then you next need to decide what to keep. If books are chewed on by the dog or (heaven forbid) are mildewed…. they should be tossed. You may have a relative or friend that reads a favorite author and those can go into a box for him/her. Your space will dictate how much you can keep. The next decision is whether to donate some of your books to someone else. Think of it this way: There will be someone who NEEDS them and WILL LOVE them as much as you did! Your local library is probably your best bet. If they don't want to keep, they will still likely take them for their annual book sale. Other options are used bookstores (not too many of these anymore but google your area) or a donation site such as Habitat for Humanity. Please call your donation location as some will take books and some will not. If you have large coffee table books, you might be able to take them to a consignment shop…but call and check. One other great donation place is senior centers. You will want to check but many have small libraries and look forward to new arrivals especially the latest best sellers and history books. When my parents moved into assisted living at Thrive Frederica, they took their books with them and donated them to Thrive. They were placed on some shelves just down the hall from their room and my stepdad used to like to go down and "arrange" them. I believe that it gave him great personal pleasure that other people would now also enjoy them.
Step #3: Store Okay… once you have pared the books down to a manageable quantity, now it's time to put them back into the shelves. This can take some time to keep the categories/authors together. Here you work with category first and then go to author (maybe alphabetizing) …. or it could also be arranged by size. It depends on your books and bookshelves. Small paperbacks can be placed 2 deep if you run out of space.
Step #4: Label Time I would recommend labels only in specific situations where it does not affect the aesthetics of the shelves. Basement or kids room bookshelves are great for labeling. The family room or family office…. that would not be so pretty.
RECAP of KrispTips:
Sort by categories first…then later by author or size within category
Donate the books you don't want…. your library is probably a good option.
Labels might work for kids' rooms or basements not libraries or dens
For a personal touch, leave out several book recommendations (with your comments) for your guests to enjoy during their stay
Getting Help with Books
If it seems too overwhelming to organize your books…. please reach out to us. If you have some questions, I am happy to help you get your DIY kicked off….at no charge! And if you still need more help, we can discuss if a Krisp Solutions project would work for you. Another option is that during Covid 19 restrictions we can do virtual consulting over Zoom or Facetime. Contact us and let's see what help or inspiration you need!
Hugs, Kris